With the spring season in full swing, football programs around the Houston area are throwing on the pads and starting to prepare for the 2022 football season. Today we are going to go over the Houston Area High School Top 10 Players going into the spring season.
We have chosen 10 players in the Houston area from the 2023 and 2024 classes that we think will have the biggest impact on their squads. Additionally, we are going to be going over what we see on tape and what they bring to the table.
1: DJ Lagway – Quarterback – Willis High School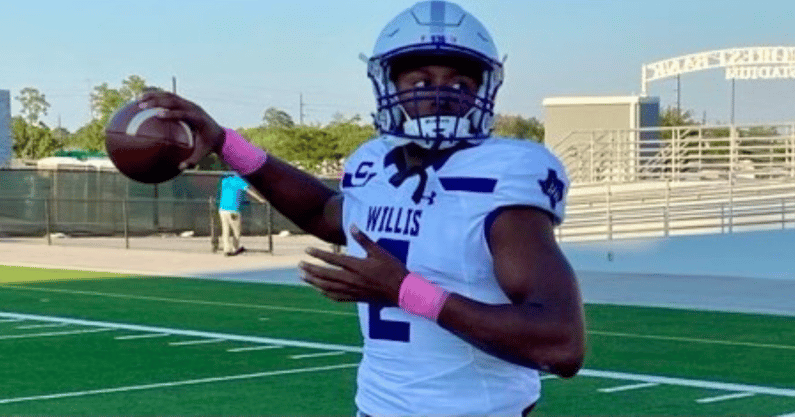 DJ Lagway is the first 2024 athlete on this list and for good reason. After a 2022 campaign that included 2200+ total yards, and 23 total touchdowns he looks to reload and show why he's one of the top QBs in the country. Lagway is 6'3″ 210-pounds and an absolute playmaker. He has a huge arm with wheels to assist. He has great accuracy downfield even when off-balance or under pressure. His awareness makes it appear that he has eyes in the back of his head and his legs allow him to make circus-like escapes and runs. Finally, his large frame allows him to simply bounce off tackles. If you get a chance you should get to a game and check out the playmaker from Willis. Willis is officially under a new regime with former Klein Oak head coach and AD, Jason Glenn, and they have brought in former Spring head coach Trent Miller in an attempt to turn the program around. A link to his Hudl can be found here.
2: David "DJ" Hicks Jr. – Defensive End – Katy Paetow High School
David "DJ" Hicks Jr. is a 6'4″, 269-pound defensive end prospect from the Katy area. Hicks is a 5* on ON3, and Rivals and a 4* on 247Sports and ESPN. Hicks is moving to the Katy area with his father, the new defensive coordinator at Paetow. After three successful years at Allen High School DJ has solidified himself as a top 10 recruit in the 2023 class. On film, Hicks is a nasty defender that is very difficult to block. His high motor and explosiveness make him very difficult to contain. He is looking to help Katy Paetow win back-to-back state titles by filling any defensive line needs the panthers will need. A link to his Hudl can be found here.
3: Jaquaize Pettaway – Wide Reciever – Langham Creek High School
Jaquaize Pettaway is a 5'11", 170-pound wideout from Langham Creek. Pettaway excels in the slot with his verified 10.59 second 100-meter dash time, but also has sure hands and excellent route-running skills needed to play the "x" or "y" spots. Pettaway put up 1004 yards on 55 catches his sophomore season, and 794 yards on 50 receptions his junior season, and looks to improve those stats this year. Pettaway is also a top-tier kick and punt returner.  Jaquaize is always a player to watch and is a big play waiting to happen whether it's on offense, defense, or special teams. Pettaway is looking to elevate his team past the second round where they were knocked out of the playoffs last season. A link to his Hudl can be found here.
4: Ryan Niblett – Athlete – Aldine Eisenhower High School
Ryan Niblett is a 5'10" 165-pound 2 way player out of Aldine. Niblett possesses elite speed and instincts along with developing hands and route running. Niblett got snaps at quarterback, receiver, corner, and safety last season as well as fielding punts and kicks. Niblett is a dangerous RAC slot with the frame and skill set to work outside the box as well. He holds the ability and skills to play on either side of the ball at the college level. Anytime he is on the field be ready because he is always a homerun play threat. He looks to help lead his team to a playoff appearance in one of the strongest districts in the Houston area. A link to his Hudl can be found here.
5: Ashton Porter – Defensive End – Cypress Ranch High School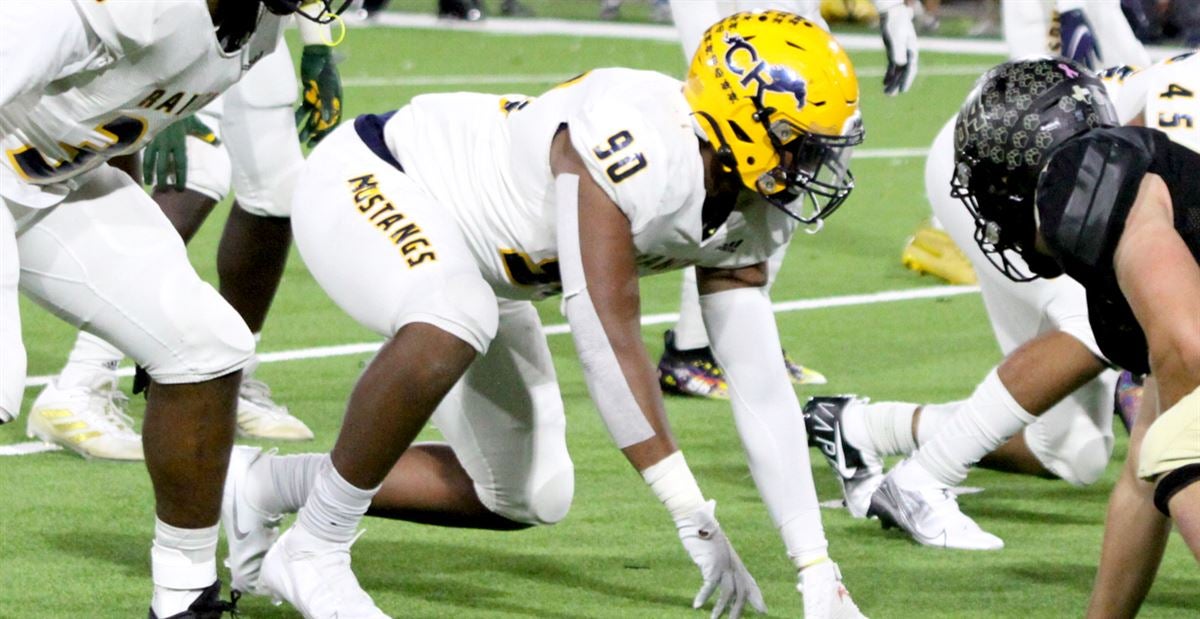 The 6'3″ defensive end prospect, Ashton Porter is a terror in the trenches. Porter is a versatile defensive line player who can overpower or finesse the offensive line. Porter matches his power with speed and violent explosiveness at the snap giving him an edge against any opponent. His motor allows him to always be in on the play and he has an instinctive nose for the football. His junior campaign included 35 tackles, 11.5 tackles for loss, 4 sacks, and 2 forced fumbles. Cy-Ranch and Porter look to build on a successful 2022 season that saw them lose in the first round of the playoffs against Klein Oak. A link to Ashton Porter's Hudl can be found here.
6: Braylan Shelby – Outside Linebacker – Friendswood High School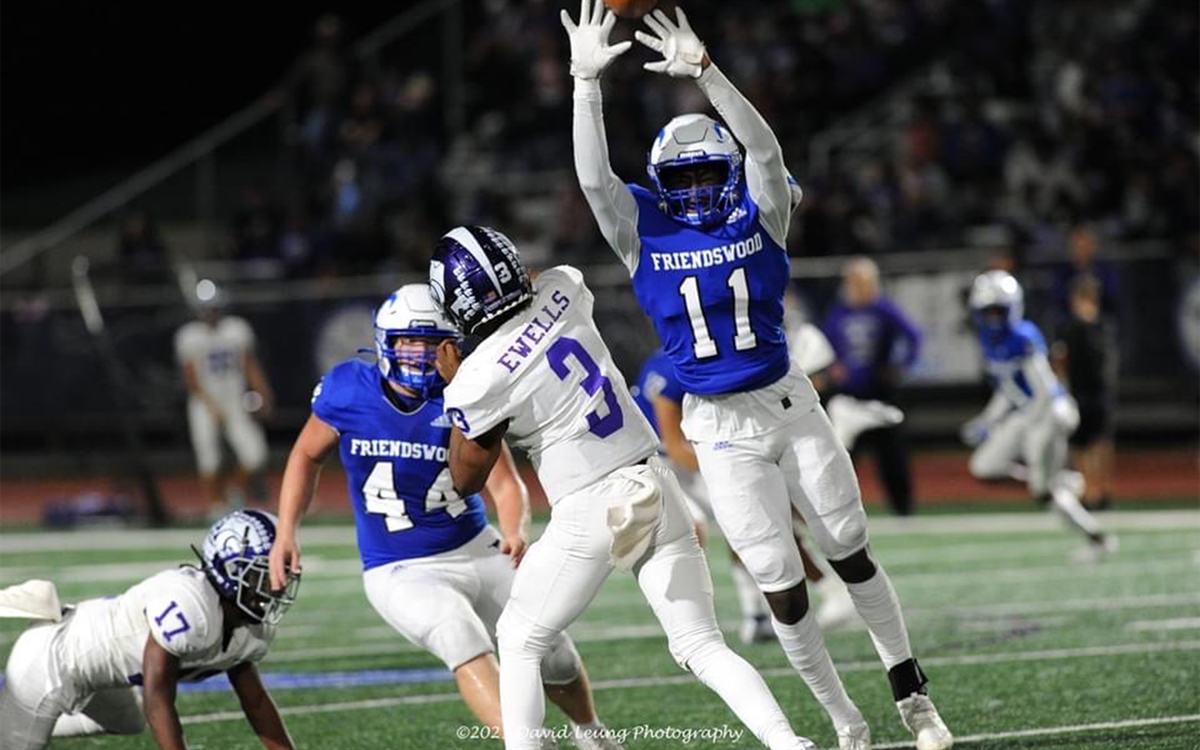 Braylan Shelby is a 6'4.5″, 235-pound outside linebacker. Shelby plays both standing up and in the three-point stance as he uses his size and strength to get around linemen. Shelby has great patience and IQ and is able to play the pass just as well as he plays the run. In his junior campaign, he had 8 sacks, 4 forced fumbles, 5 pass break-ups, and 1 interception. His film shows great play recognition and patience as he lets the play develop before making a decision on his next steps. In coverage his big frame and speed allow him to not only lock up backs and tight ends, but he also plays against the slot. Look for the Friendswood Mustangs to use him in more spots this season as they came off of a rough 6-5 2022 season. A link to his Hudl can be found here.
7: Terrance Green – Defensive Tackle – Cypress Woods High School
At 6'5″, 265-pounds, its no question that Terrance Green is a problem. Green uses his size to his advantage every chance he gets. In passing reps he man-handles the offensive linemen, often creating an issue for the quarterback even if he doesn't get around his man. Green doesn't have many pass rush moves but that hasn't affected his ability to disrupt the play at all. He often gets his hands up in pass sets to create issues in the passing lanes for the quarterback. Run defense is where Green really excels. With his long arms and wide frame he takes up a hole and usually 2 offensive linemen which create opportunities for his teammates to kill the play before it really starts. This season I expect to see improvement in his pass rush moves to allow him to wreak more havoc on opposing offenses. I see him as an inside defensive lineman at the next level, so I expect to see him get more reps there this season. A link to his Hudl can be found here.
8: Jelani Watkins – Wide Receiver – Klein Forest High School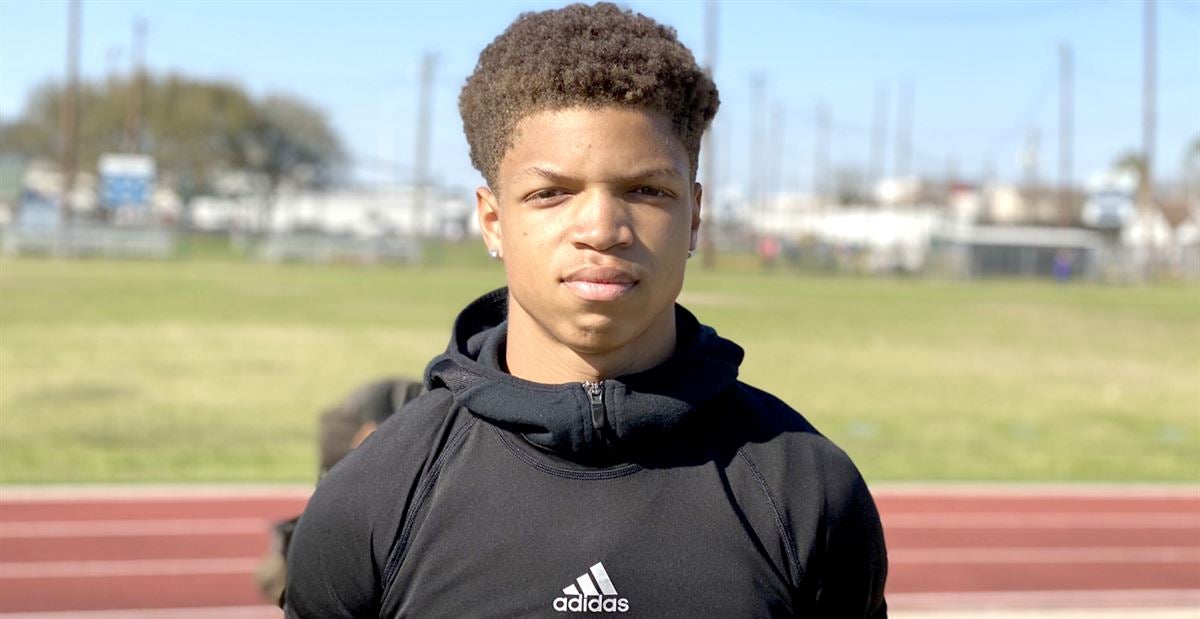 Jelani Watkins is a 4* 2024 receiver that is  5'9″, 160-pounds. The Golden Eagle standout is one of the fastest receivers in the state with the route-running skills to maximize his production. Watkins shows that he can create separation at the line and uses his footwork to his advantage when reaching the defensive secondary. He is used in a slew of ways on the offensive side of the ball taking snaps at wide receiver, running back, and a few times taking the snap at quarterback. While his skills at wideout are exemplary, he really shines in the return game fielding both punts and kicks for the Eagles. Watkins uses his speed and agility to slice up the opposing defenses. I'm looking at him this season to help propel the Eagles into a playoff spot coming out of a tough district schedule. The Eagles last year had their best season since 2009 and look to build on that success. A link to his Huld can be found here.
9: Micah Bell – Cornerback – Houston Kinkaid High School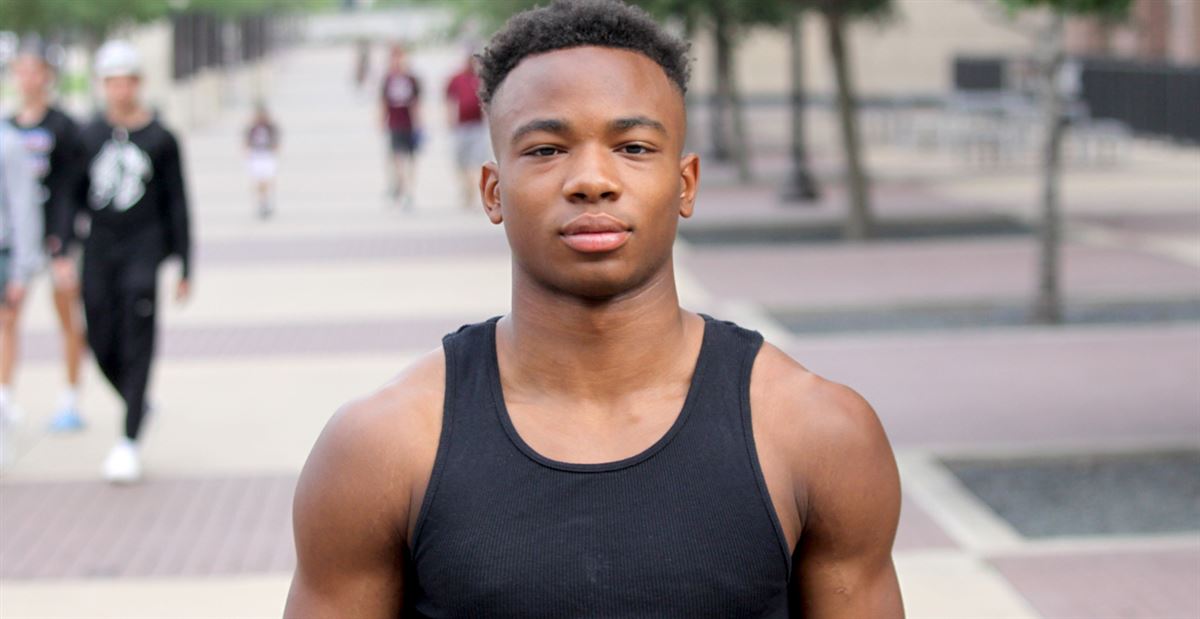 The only prep school player on this list is none other than Micah Bell. At 5'11" and 160-pounds, Bell is fast and physical. Bell is a lockdown corner when playing defense and one of the best offensive utility guys in the state. With a verified 10.62 100-meter dash speed he is able to hang with anyone on the field. Bell is a patient corner that reads the receiver off the line and waits for the perfect time to strike. He is a lockdown in press coverage off the line and arguably even better in coverage sets, roaming the field like a heat-seeking missile. As good as he is on offense and defense he is a real game-changer in the return game for the Falcons. His speed paired with his vision is a dangerous combination when fielding kicks and punts. Bell and the Falcons look to go back to back in the SPC this season even after Micah's brother, Dillon (WR), graduated and went to Georgia. A link to his Hudl can be found here.
10: Dylan Spencer – Defensive End – C.E. King High School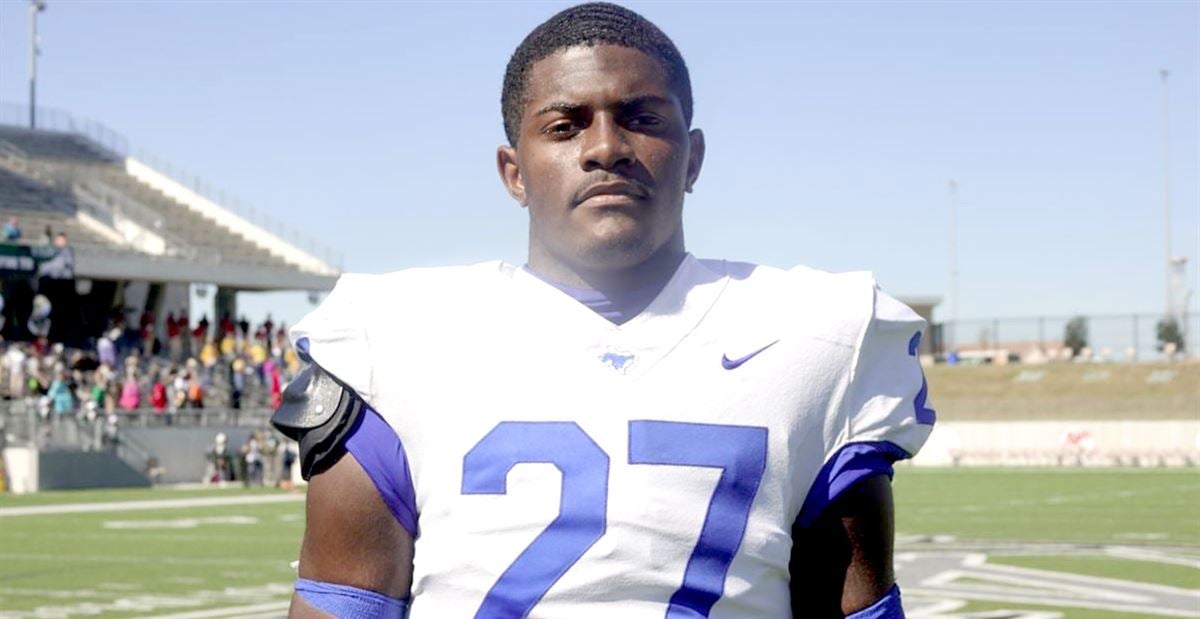 The final player on the list is none other than Texas commit Dylan Spencer. At 6'5″, 245-pounds, Spencer is a physical edge rusher. Spencer not only has the pass rush moves to get in the backfield but also has the patience needed to effectively play the run. Spencer's energy puts him in the play even when he misses a tackle or assignment. The up-and-coming defensive star has shown nothing but improvement from his time as a freshman at West-Orange Stark all the way through his junior season. He has a very high upside and good developmental traits that give him an edge over the competition. This year the Panthers look to build on their success in 2022 and continue their winning ways in a tough district 21-6A that includes Atascocita and North Shore. A link to Dylan's Hudl can be found here.
This list of Houston area high school players was made with a combination of film, stats, and projected team impact.
Be sure to follow the Houston Sports Report for coverage of all Houston sports. As always you can find and follow myself, and Houston Sports Report on Facebook and Twitter.
This link to our Homepage will take you to our most recent Houston sports news and articles